Some ideas for celebrating the last night of the year
27 Nov 2022
New Year's Eve dinner is one of the most eagerly awaited moments of the festive season. Getting together, exchanging good wishes to start the New Year in the best possible way and, above all, eating quality food.
To close out 2022, have you chosen not to stay at home and browse through the various recipes for New Year's Eve dinner, but to enjoy the evening at a restaurant?
Gruppo UNA has several restaurants for New Year's Eve 2023 dinner in its renowned hotels, where you will find special menus prepared to give you an unforgettable evening while waiting for midnight. Take a look at some of the offers.
New Year's Eve dinner by the sea
To make 31 December special you could opt for a New Year's Eve dinner on the Tuscan seaside and the Versilia Lido | UNA Esperienze is the ideal choice. Overlooking one of the most beautiful coastlines in our country, it also stands out for its refined cuisine that will not fail to amaze you.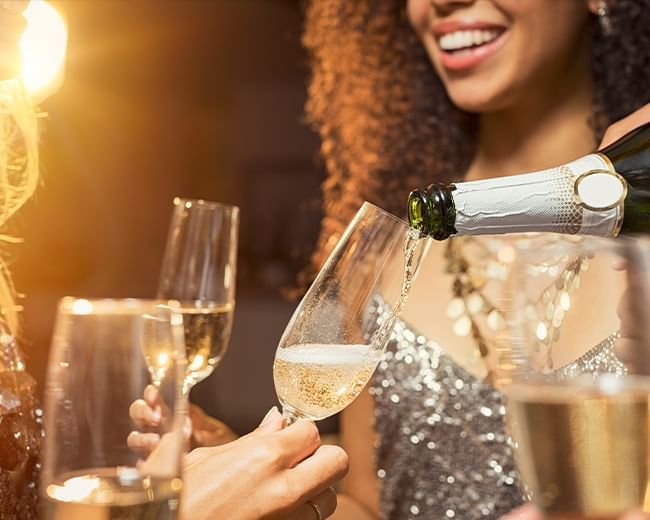 The Versilia Garden Bar & Restaurant will welcome you with an ad hoc New Year's Eve menu. The Gala Dinner opens with an aperitif, featuring black cod brandade crostini with crispy leeks and liver terrine with vin santo gel and caramelised onions.
The various proposals for New Year's Eve dinner include specialities such as beef tartar with hazelnuts and marinated salmon with lime and pink pepper, accompanied by a glass of Cerrus Brut and Rosé from Tenute del Cerro.
This will be followed by the actual dinner at the table: saffron and lemon risotto with raw prawns and liquorice and burrata ravioli with beetroot cream, orange and smoked herring await you.
This will be followed by roast sea bass on creamed artichokes and clams and sirloin of beef with foie gras and black truffle on Tenute del Cerro's Nobile di Montepulciano sauce, accompanied by potato pie and celeriac puree.
The dishes will be enhanced by pairing them with wines from the wine cellars of Tenute del Cerro and Villa Russiz. And to end on a festive note, don't miss the large dessert buffet and champagne for the midnight toast. The entire evening will be accompanied by live music and DJ sets starting after dinner.
End the year in Montepulciano
Looking for more ideas for New Year's Eve dinner? A few steps from Montepulciano there is Relais Villa Grazianella | UNA Esperienze: this is a villa immersed in the Sienese hills, just a few steps from one of the most famous locations when it comes to wine excellence.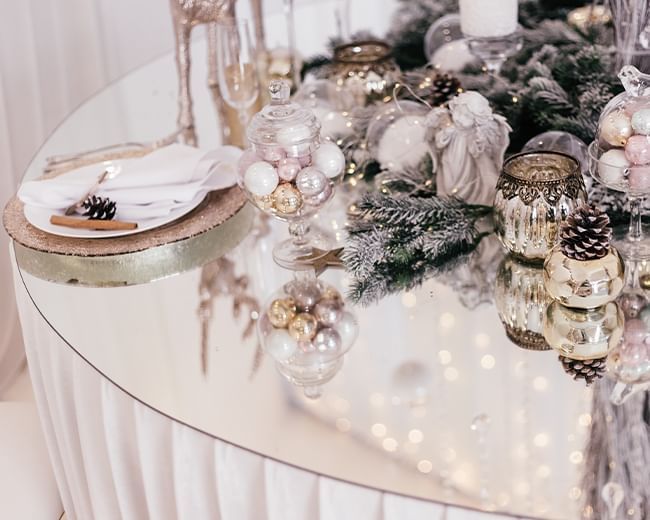 To begin with, you will be served an entrée and an appetiser with yellow pumpkin and mushroom flan and fresh Pienza pecorino cheese fondue. Then it will be the turn of the tasty first courses, tortellini in capon broth and risotto with Savoy cabbage and sausage with Sangiovese Poggio Miniera.
Afterwards, enjoy the unique flavour of traditional Val di Chiana cotechino with lentils and Chianina fillet with Fattoria del Cerro's Nobile di Montepulciano wine and baked potatoes.
It would not be a real dinner without dessert: let yourself be bewitched by the numerous dessert proposals, where mousse with ricciarello di Siena and vin santo jelly, gingerbread tart and orange cream, and walnut parfait, mango sauce and chestnut honey stand out.
A wide selection of fine wines is available to enhance the various dishes: these include Cerrus Brut Metodo Classico, Rosso di Montepulciano 2021 and Ribolla Gialla Spumantizzata Villa Russiz.
Making the evening even more special will be live music, with saxophone and vocal accompaniment.
New Year's Eve dinner in Sicily
Sicily is a land full of beauty to visit in every season. If you find yourself here in winter, perhaps on the east coast, our advice is to go with friends and family to Palace Catania | UNA Esperienze.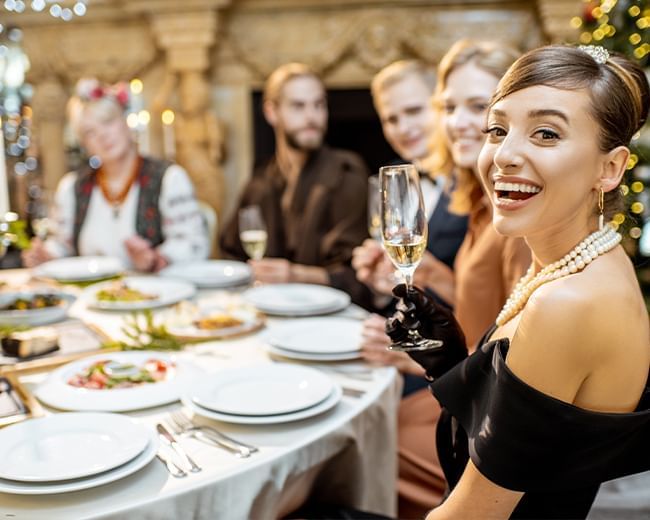 The hotel is located in the heart of Catania and offers its guests a unique view of Mount Etna, which dominates the landscape. The Etnea Roof Bar & Restaurant by 'UNA cucina' prepares to welcome you with a welcome aperitif with Cerrus Rosé Brut Metodo Classico from the Tenute del Cerro winery.
At this point, the restaurant will offer you a choice of meat or fish menus to satisfy every palate curious to try the flavours of New Year's Eve dinner in Sicily.
The meat menu will amaze you with unique dishes, including beef tartare with caramelised dried figs and ricotta from Lentini, and agnolotti del pastaio filled with stracchino cheese with roasted pepper reduction, burrata drops and black olive crumble.
If you opt for the fish menu, you will find several dishes that will take you on a journey through the best of the local seafood tradition.
Among the many dishes you can enjoy are the seared scallops on creamed violet potatoes, citrus artichokes and confit cherry tomato ristretto, and the watery cacio e pepe risotto with a persimmon reduction coffee powder and toasted langoustine with torch.
What can't miss at New Year's Eve dinner? Definitely the dessert: chocolate sphere with vanilla mascarpone cream, dark white chocolate icing and rosemary currants. And don't forget the traditional lentils with cotechino and sparkling wine for the final toast.
The New Year's Eve dinner is a unique moment to share with friends and family. After all, there's nothing more wonderful than to be at table, happily starting the New Year in the best possible way.