From Panettone to struffoli, traditional Italian Christmas sweets
15 Dec 2022
During the festive season, there is nothing better than filling up on Christmas sweets and their unique flavours. There are those who love to follow recipes and make tasty homemade Christmas sweets, and those who instead wander the city markets in search of the most characteristic ones.
After all, what could be more magical than waiting for Christmas to arrive while enjoying the sweet delicacies of tradition? And it is also a way to rediscover the cities and regions where they are prepared in a special way.
From the north to the south, from the mécoulin valdostano to the seada sarda, Italy boasts a varied and tasty list of Christmas sweets: discover with us which ones you cannot miss this festive season and where to find them.
Christmas sweets from northern Italy
Quando si parla dei dolci di Natale tipici del nostro paese non si può non menzionare il panettone: originario del IX secolo e della città di Milano, consiste in un impasto di farina, burro, uova, uvetta e canditi.
Dalla Lombardia si è poi diffuso in tutte le regioni d'Italia, dove viene rielaborato in tantissimi modi secondo le tradizioni locali, dal panettone al cioccolato a quello con la crema di pistacchio.
Una curiosità: a Milano la tradizione vuole che vada mangiato anche la mattina del 3 febbraio per assicurarsi la protezione di San Biagio contro il mal di gola. Se passate le vacanze natalizie in città potreste soggiornare al Milano Verticale | UNA Esperienze o all'UNAHOTELS Scandinavia Milano, pronti ad accogliervi durante le feste.
When talking about Christmas sweets typical of our country, one cannot fail to mention panettone: originating in the 9th century and the city of Milan, it consists of a mixture of flour, butter, eggs, sultanas and candied fruit.
From Lombardy, it then spread to all regions of Italy, where it is reworked in many ways according to local traditions, from chocolate panettone to panettone with pistachio cream.
A curiosity: in Milan tradition has it that it should also be eaten on the morning of 3 February to ensure San Biagio's protection against a sore throat. If you are spending the Christmas holidays in the city, you could stay at the Milano Verticale | UNA Esperienze or UNAHOTELS Scandinavia Milano, ready to welcome you during the festive season.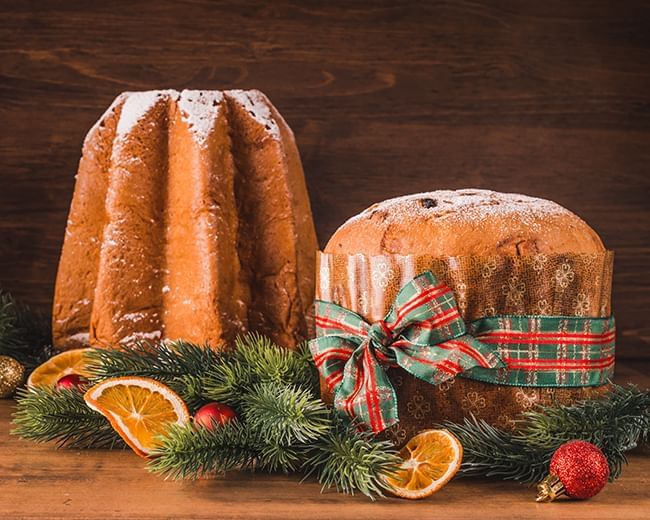 Il panettone è solo uno dei protagonisti della "rivalità gastronomica" sui dolci di Natale italiani che divide ogni anno amici e parenti: l'altro è il soffice pandoro veneto, che debutta sul mercato alla fine dell'Ottocento come erede del più antico Nadalin.
Vicenza, Verona e ovviamente Venezia, sono alcune delle città principali dove gustare un pandoro unico. Nel cuore di Venezia, a Cannaregio, Maison Venezia | UNA Esperienze può fare al caso vostro per un soggiorno confortevole nel più autentico stile veneziano.
I dolci regionali natalizi del nord Italia non si fermano a questi due nomi: se durante le feste vi capita di trovarvi in Piemonte, magari a Torino, dovete provare il tronchetto di Natale. Tornando in Lombardia, invece, non fatevi scappare il tipico torrone cremonese.
Panettone is one of the protagonists in the 'gastronomic rivalry' over Italian Christmas sweets that divides friends and relatives every year: the other is the soft Pandoro from Veneto, which debuted on the market at the end of the 19th century as the heir to the older Nadalin.
Vicenza, Verona and, of course, Venice, are some of the main cities where you can enjoy a unique pandoro. In the heart of Venice, in Cannaregio, Maison Venezia | UNA Esperienze may suit you for a comfortable stay in the most authentic Venetian style.
The regional Christmas sweets of northern Italy do not stop at these two names: if you happen to be in Piedmont during the holidays, perhaps in Turin, you must try the tronchetto di Natale. Back in Lombardy, on the other hand, don't miss the typical nougat from Cremona.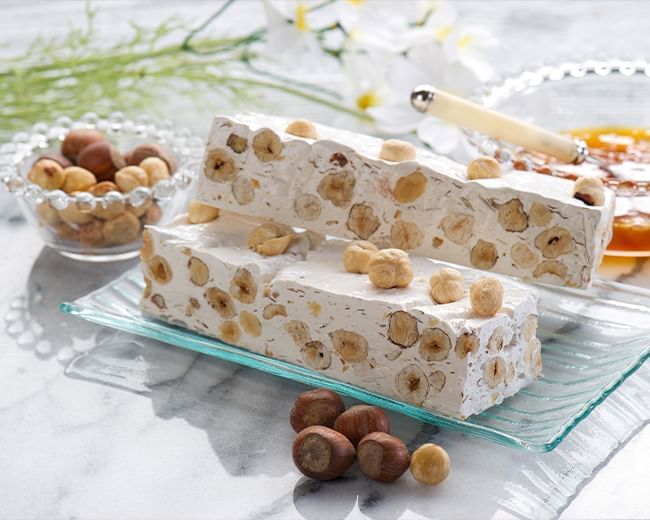 Sweet flavours between Florence and Rome
Tuscany, with its varied tradition of Christmas flavours, is the home of the ancient panforte. It is said to have originated in the year 1000 and in the Siena area, but over time it has become so famous that it can be enjoyed anywhere.
Another very famous Tuscan sweet are the cavallucci, typical Christmas biscuits characterised by the strong flavour of nuts and citrus fruits. In Florence, where the UNAHOTELS Vittoria Firenze awaits you, you will find plenty of places to enjoy them together with panforte and other delicacies.
If you are passing through Umbria, you cannot miss panpepato. It is a cake made with almonds, pine nuts, hazelnuts, cinnamon and sultanas, among many other ingredients. It is typical of the Christmas season, but in some areas of the region it appears as early as 8 December and remains on the table until Valentine's Day.
Although it originated in Terni, it has now become a must in other parts of Umbria and throughout Italy. The town is less than an hour from Perugia and its hamlet San Martino in Campo, where you can stay at Posta Donini 1579 | UNA Esperienze. From here you can explore the town and its surroundings in search of the best gingerbread in the area.
Taking pride of place among Christmas sweets in Lazio is pangiallo, a recipe as old as imperial Rome where it is said to have originated. It was originally prepared during the winter solstice as a form of good omen; over time it has become a Christmas classic in this region.
Dried fruit, raisins and candied fruit are some of its ingredients, among which there is also a mixture of flour, oil and saffron that gives it its typical yellow colour.
Eating pangiallo is a real tradition in Rome. If you are in town during the festive season, perhaps while staying at UNAHOTELS Decò Roma or UNAHOTELS Trastevere Roma, you won't be short of opportunities to taste the original recipe.
A Sweet Christmas in the South
How many of you have tasted struffoli, the famous Neapolitan and Campanian Christmas sweets? These little balls of dough made of flour, sugar, eggs and candied fruit are a true symbol of Christmas, not only of the local tradition.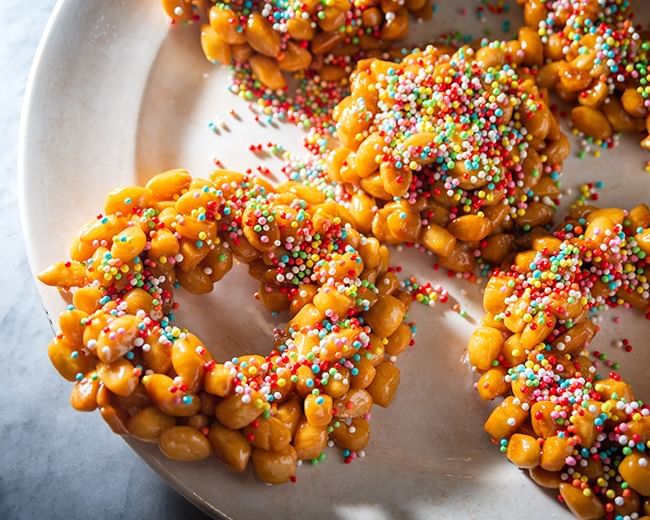 A true institution with ancient origins: strolling through the streets of the city, perhaps after a visit to San Gregorio Armeno, look in one of the local bakeries for these Christmas sweets typical of Naples. And if you need a strategically located hotel, UNAHOTELS Napoli is the one for you.
Cartellate are another popular dessert in southern Italy: sheets of flour, eggs and sugar that are usually served with honey or vincotto. They seem to date back to the 6th century B.C. and are among the most famous regional Christmas sweets in the south, especially in Calabria, Apulia and Basilicata.
In Matera, in addition to cartellate, you can also find strazzate. These biscuits of varying consistency are one of the symbols of Lucanian cuisine, all to be enjoyed while visiting the Sassi and the Living Crib. UNAHOTELS MH Matera will be pleased to welcome you during your stay.
The 2022 Christmas festivities are the perfect time to sample traditional Italian dishes, especially the many types of sweets and desserts. Now that you have rediscovered some of the most famous ones, all you have to do is visit these festive cities to get your fill of unique flavours.