A dream holiday of relaxation and fun
26 Jun 2022
The swimming pool is undoubtedly among the evergreens of summer. Beloved by children, teenagers, and families, it is a must for every summer season. Popular in cities, large and small, to escape a few hours from the summer heat, they are a true oasis of relaxation in agritourisms or accommodation facilities in the hinterland, far from the sea. But there is no shortage of high-altitude pools: even mountain destinations have beautiful pools set in breathtaking panoramas. And there is no shortage of blue pools in prestigious rooftops or hotels that want to give their guests an extra plus.  Having a swimming pool within walking distance of your room is more than just a luxury and allows you not to have to choose a seaside destination to take a dip. 
The swimming pool on holiday: all the advantages
A swimming pool on your doorstep is a must-have for several reasons, especially if you opt for a holiday (or even a work stopover) immersed in nature or within walking distance of some beautiful historical centre: in addition to being able to keep fit with a few pools, it is ideal for relaxing during the day without having to search for a beach on Google Maps and finding one that is perhaps distant and crowded, or not equipped. Having a swimming pool in the host structure becomes even more advantageous if you choose to spend a holiday inland, perhaps in the beautiful countryside of central Italy where you can lose yourself in long and fascinating walks: if, for example, you don't want to give up the idea of staying in a villa with a swimming pool during a trip to the Sienese hills (perhaps sipping a nice glass of Montepulciano on your way back from a horseback ride) you could opt to spend a few days in the hills of Montepulciano at Relais Villa Grazianella | UNA Esperienze. This elegant residence dating back to the end of the 18th century will surprise you not only with its swimming pool in the garden surrounded by olive trees, but also with a room dedicated to tasting the local wines stored in the Villa's wine cellar.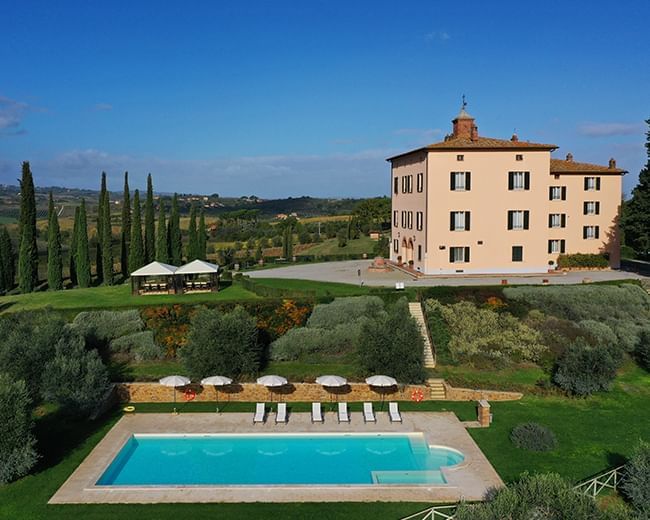 And sticking close to the 'nature' theme, here at the foot of the Umbrian countryside you can enjoy a swim in the swimming pool of Posta Donini 1579 | UNA Esperienze, a historic residence located in the heart of San Martino in Campo (an ideal starting point if you want to explore Perugia and Assisi) that also houses a hotel with a SPA open 7 days a week.
The swimming pool in the city holiday
If you are a fan of the architectural beauty of our country, then there is nothing better than returning from your cultural excursion, going out into the garden and finding a little oasis of peace. Imagine, for example, visiting Matera and its best views, getting lost in the wonderful Sassi (World Heritage Site), visiting the unique cave houses and enjoying the breathtaking view from the Belvederes. Just a few minutes from the historic centre you can easily find a room at UNAHOTELS MH Matera, located in a 5-hectare park with 6 banquet rooms to enjoy local gastronomy and access to two swimming pools and the SPA.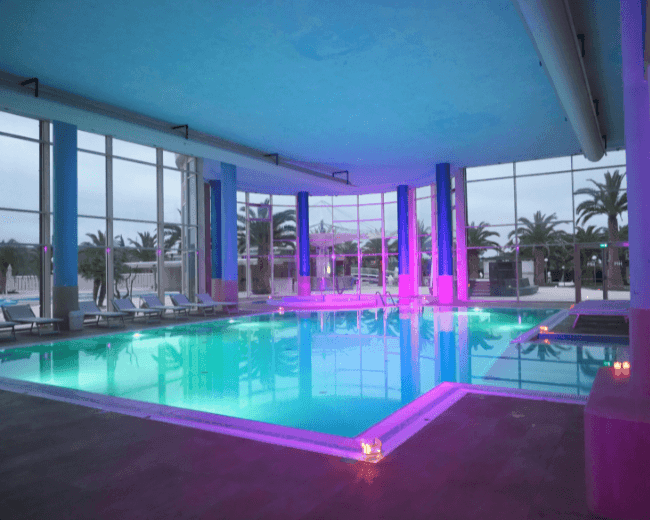 If, on the other hand, you are heading to Puglia, perhaps to Bari, where you can admire the thousands of local beauties such as the Basilica of San Nicola or the alleys where you can breathe in the most authentic local tradition, do not miss a tour of Via delle Orecchiette, a place where time has stood still and the local flavours will make you feel at home. And to crown such an experience, there is nothing better than a swim under the Apulian sun: UNAHOTELS Regina Bari offers its guests an outdoor swimming pool flanked by a garden with characteristic olive trees and a convenient shuttle service connecting Noicattaro, where it is located, to Bari and its wonders.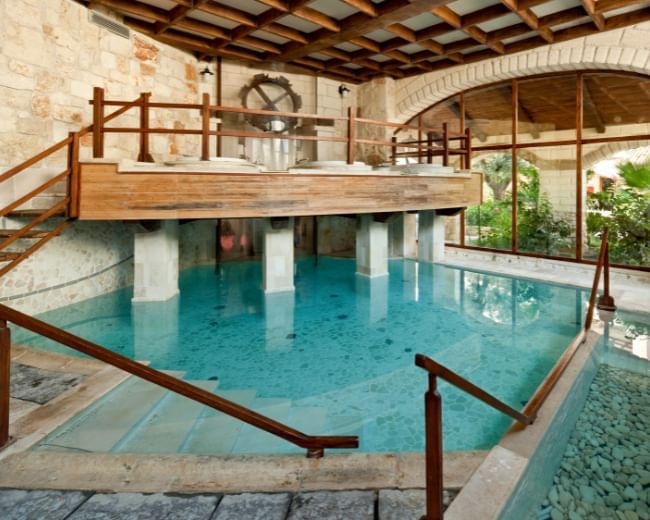 If you just can't resist the idea of being close to the sea without giving up the added bonus of a swimming pool, then you could opt for the splendid Taormina, where UNAHOTELS Capotaormina awaits you with its private beach, seawater swimming pool and unique panorama of the Mediterranean. Summer is still to be experienced and offers many places to explore and many ways to relax and enjoy yourself with a holiday of contact with nature, city trips and a dip in the sea and swimming pool.