Where to enjoy a refreshing drink under the starsWhere to enjoy a refreshing drink under the stars
10 Jun 2022
The hot summer is advancing and more and more people are looking for new trends for their 2022 holidays or to enjoy long evenings and leisure time away from work. A fascinating experience that is catching on in urban settings and beyond, especially when one thinks of the unique landscapes that Italy has to offer, is to indulge in a dinner or aperitif on a rooftop, relaxing with friends or family. An idea not to be missed now that temperatures are rising and summer is starting to present its best colours and magical atmospheres.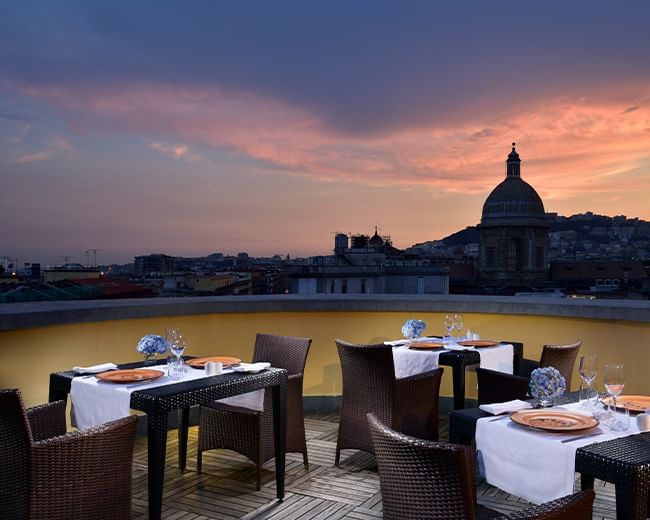 The rooftop has become a must for all those hotels that want to impress their guests with a wide range of amenities such as a swimming pool, gourmet restaurant or sports grounds, as well as dreamy rooms and venues: UNA Esperienze and UNAHOTELS hotels are no exception and for this reason many are equipped with evocative rooftops that will allow you to lay your eyes on the most beautiful Italian panoramas, as in the case of the hotel Versilia Lido | UNA Esperienze and its Versilia Roof Bar & Restaurant by "UNA cucina", which reopens its doors on 21 June to embrace the summer entirely. The surprises, however, are not over.
Rooftops not to be missed
The UNA Esperienze and UNAHOTELS hotel rooftops are open to the public and not only available to hotel guests, thus becoming an intriguing point of attraction in the host cities. And if you want to capture the moment of sunset over these open-air realities, perhaps with a tasty cocktail in hand, here are some locations to choose from:
The Palace Catania | UNA Esperienze and its Etnea Roof Bar & Restaurant by 'UNA cucina' offer tantalizing dishes, from lunches to dinners with a focus on traditional local products and raw materials; and don't forget to check out the local drink list, where you can find exclusive cocktails such as the 'Etnea-Orange' and the 'Blue-Roof'.
UNAHOTELS Napoli, with the fascinating Vesuvius-view terrace of the Vesuvio Roof Bar & Restaurant by 'UNA cucina' offers a unique selection of Neapolitan cuisine combined with great attention to novelty: the menu changes periodically in accordance with the seasonality of the ingredients.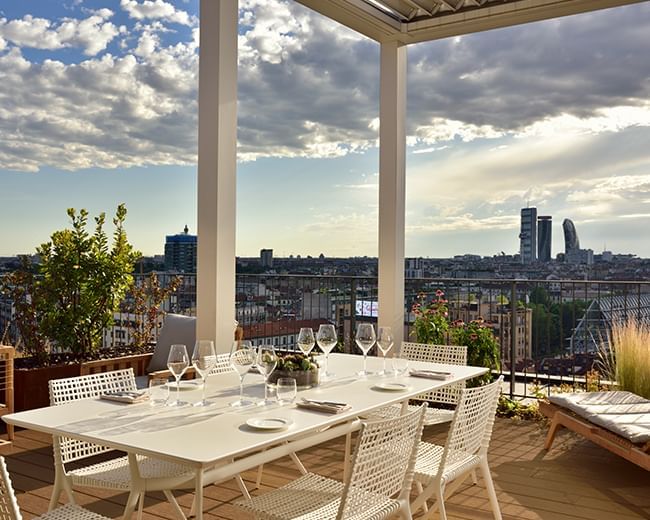 Immersed in the Milan skyline, for those who love the contemporary soul of the metropolitan context, there is the rooftop of Milano Verticale | Una Esperienze, reserved for hotel guests or those who choose certain specific formulas for their stay. A structure with an attractive design, where the 530 square metres of available space stand out, which can even reach 900 thanks to the possibility of adding four modular suites.
The rooftop of Versilia Lido | UNA Esperienze
If you are in Tuscany, do not miss the opportunity to enjoy a rooftop experience by stopping at Versilia Lido | UNA Esperienze, a hotel immersed in one of the most desirable settings in central Italy and equipped with three restaurants including the Versilia Garden Bar & Restaurant by 'UNA cucina' and the Versilia Roof Bar & Restaurant by 'UNA cucina'. The latter, in particular, is the ideal place to enjoy a view of the Tyrrhenian Sea that will be worth talking about and to savour a meal or an aperitif 100% made in Italy. In this regard, on 21 June, a date that is not a coincidence at the beginning of summer, the rooftop will inaugurate its summer season. There will be no shortage of opportunities to taste typical local products accompanied by live music or DJ sets and, above all, there will be no shortage of opportunities to sip the new summer drink by Gruppo UNA Èspero, with its flavours dedicated to the upcoming summer season. An inviting proposal with which you can transform a warm summer evening into an unrepeatable moment of relaxation.