Gruppo UNA hotels offer special menus for Christmas
17 Nov 2022
The end-of-year festivities are approaching, and with them also the time to get together with friends and relatives for the traditional Christmas dinner, one of the best times to spend together.
There are those who prefer to stay at home and make the famous recipes for Christmas dinner and those who like to go out and enjoy delicious dishes in dreamy settings.
If you also follow this current of thought, you should know that Gruppo UNA prepares its restaurants for Christmas dinners and lunches with rich menus designed to satisfy all palates, combining traditional dishes with typical regional flavours.
Find out what the chefs have in store for you and your Christmas 2022 dinners.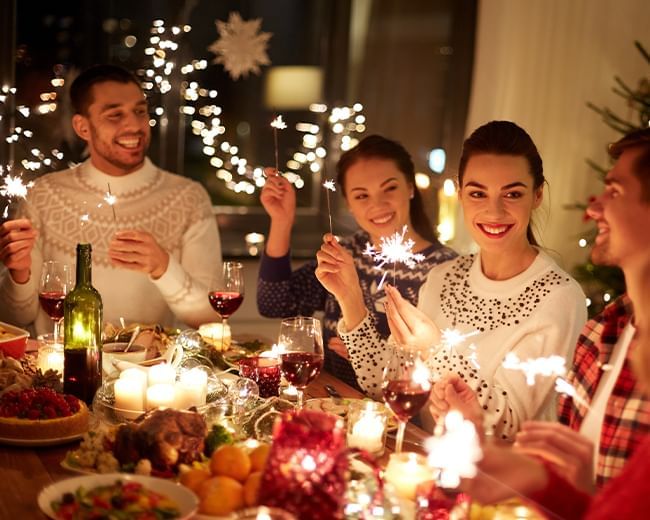 Christmas Eve in Turin
Turin always offers great excitement, both thanks to its tourist attractions and the events that come to life during the festive period. In the heart of the city there is Principi di Piemonte | UNA Esperienze, which boasts the famous Salone delle Feste and Casa Savoia Restaurant by 'UNA cucina'.
If you were wondering where to have Christmas dinner, then this restaurant and its distinctive elegant and sophisticated ambience is the answer you are looking for.
The Christmas Eve dinner includes a rich menu that opens with red shrimp carpaccio with avocado and vegetable pinzimonio and features Gragnano spaghetti with scampi, ginger, pistachios and citrus fruits as the first course.
This will be followed by fillet of line-caught sea bass with fennel and cumin, while for dessert there will be almond milk bunet with toffee sauce and chocolate chantilly; to finish, the traditional panettone or pandoro accompanied by chef's sauces.
Principi di Piemonte is also ready to welcome you for a Christmas lunch to be enjoyed in company: start with scallop nuts marinated in Aperol, prosecco cream, cashew nuts and citrus fruits, and continue with fassona crudo, variegated turnips and tartar sauce.
The first course sees tortelli di magro in old-fashioned capon broth, followed by roast farmhouse guinea fowl breast, millefeuille of potatoes with thyme, chestnuts and tonka bean sauce that is hard to forget. Dessert is not to be missed: panettone semifreddo with spiced custard and special Zurigo cake, according to the chef's recipe.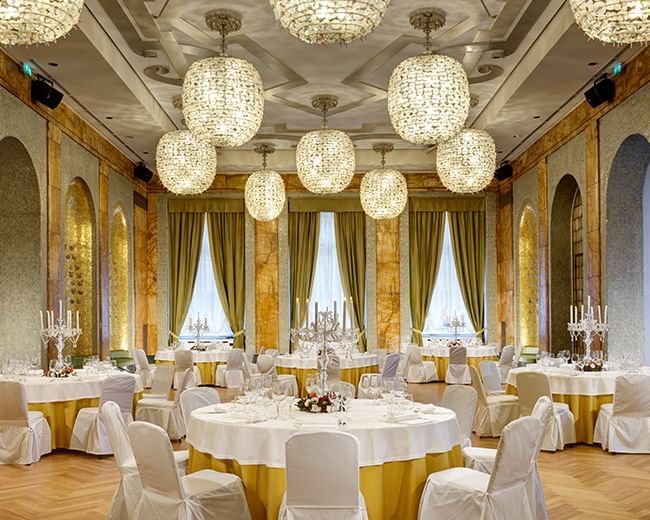 Christmas dinner in Naples
Looking for more Christmas dinner ideas? One destination that cannot go unmentioned is Naples, with its eye for quality food and wine.
In the city centre, just a few steps from the historic centre, is UNAHOTELS Napoli and its renowned Vesuvio Roof Bar & Restaurant by 'UNA cucina'.
The Christmas Eve dinner planned for you will open with calamari salad and warm octopus on the plank with a hint of citrus, plus prawn cocktail in pink sauce, orange segments and peanut powder.
After this Christmas starter, the agnolotti stuffed with seafood genovese and burrata, shellfish jus and crispy guanciale make an appearance. You will then be surprised by the flavour of the tempura black cod, cream of broccoli and creamed cod mousse.
It would not be a traditional Christmas menu without an ad hoc dessert, which is struffoli with honey, savarin with cream and amarena cherries, pastiera wheat cake, curly sfogliatella and Parthenopean shortcrust pastry.
The dishes will be paired with several fine wines, such as Cerrus Brut Metodo Classico and Chardonnay Villa Russiz - Nobile di Montepulciano by Fattoria del Cerro. To end on a high note, there will be a trolley of bitters and cigars from the hotel's fine selection.
UNAHOTELS Naples and its restaurant will also be delighted to host you for Christmas lunch: the invitation consists of beef tartare, aubergine and courgette carpaccio, and caprese with buffalo mozzarella from Campania and tomato.
This is followed by cannelloni with Parthenopean Genovese ragout, caciocavallo flakes and jus di fondo bruno, and as a second course fillet of black suckling pig from Caserta, with cream of beans, friarielli pie and red fruit ristretto.
Again, you will end your meal with dessert, a trolley of bitters and cigars from the hotel's selection.
Celebrating Christmas in the Umbrian countryside
If, on the other hand, you are looking for a setting immersed in the countryside for your Christmas lunch 2022, then you should choose Posta Donini 1579 | UNA Esperienze as the location: it is located a few kilometres from Perugia and is surrounded by two hectares of centuries-old parkland.
In the restaurant of the historic villa, you will be served a Christmas menu combining typical dishes of the period and the unique flavours of Umbria.
Dishes such as smoked salmon carpaccio on a crouton with fine herb butter and marinated pork fillet, raspberry vinegar and valerian will surprise your palate and that of friends and family.
The lunch will be rounded off with traditional Umbrian cardoon parmigiana on an aromatic tomato coulis, hand-tied cappelletti in local capon broth, and guinea fowl galantine with black Norcia truffles and braised violet artichoke hearts.
To end on a sweet note, let yourself be enveloped in the flavour of the characteristic Mont Blanc and other traditional Christmas delicacies. Everything will be accompanied by a careful selection of wines from the restaurant's sommelier, designed to enrich your experience.
In short, if you are looking for ideas for Christmas Eve and Christmas lunch with your family, you are spoilt for choice: Gruppo UNA is preparing to welcome you and your families with special menus and delicious dishes to celebrate the most magical time of the year together.