Discovering one of the most iconic districts of the Eternal City
9 Jul 2022
If you have ever wandered around the streets of Rome, you will know that Trastevere has a charm all of its own: it is a concentration of the spirit of this city and in fact many like to define it as the beating heart of the Capital, thanks to the unique colours and flavours that it can give to those who walk on its cobblestones. Rome of once upon a time and the Rome of today live in harmony in the local markets, historic restaurants and trattorias located in those alleyways that know how to make you feel at home even if you come from another region and have only come to see your friends for the weekend: the nostalgia that assails you as soon as you decide to leave again is inevitable. Trastevere is like that, it welcomes you with the liveliness typical of these areas and little by little reveals its secrets with a special eye on the hidden treasures between Piazza Trilussa and Piazza di Santa Maria in Trastevere passing by Tempietto del Bramante and much, much more.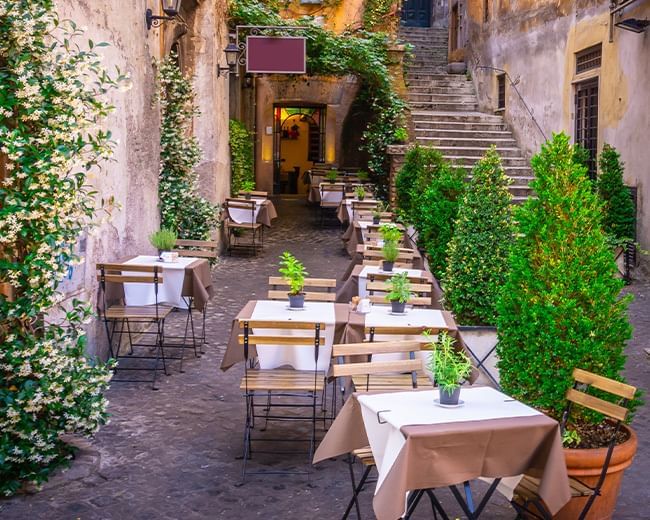 Trastevere and its alleys
The starting point from which to explore Trastevere can be none other than Piazza Trilussa, the meeting place par excellence and the meeting point for locals and tourists who want to have fun exploring the narrow streets of the neighbourhood: just a few steps away is the spectacular Ponte Sisto, one of the most travelled and appreciated by Romans themselves for the view over the Tiber that it can offer (if you come from the city centre this will be your entry point). From Piazza Trilussa you will have Trastevere at your feet: get lost in its streets and alleys so full of restaurants where you can try all the traditional Roman flavours such as amatriciana, gricia, supplì and carbonara or stroll among the workshops, shops and clubs. It's no coincidence that Trastevere is the centre of the evening nightlife, and after sunset you can experience the most captivating side of the city, perhaps in some historic and famous bar where carefree drinking in the company of friends on hot summer evenings is a must.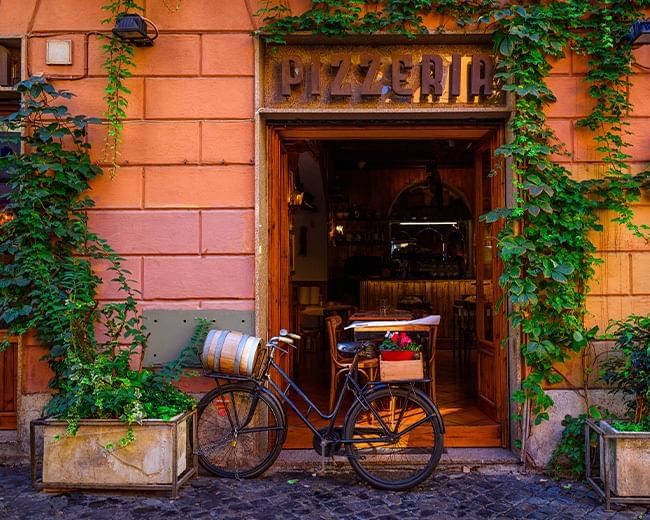 Trastevere, the cinema district
Trastevere is also one of Rome's most cinematic neighbourhoods, not only because of the frequent festivals it hosts but also because of the films and TV series that have found in this district the ideal set to put the spirit of what it means to be Roman on screen. Fans of Italian auteur cinema will enjoy wandering around the alleyways, recognising some of the locations portrayed in timeless classics like La notte brava by Bolognini, Trastevere by Fausto Tozzi, Un sacco bello by Claudio Verdone and the mother of all classics, Roma città aperta by Roberto Rossellini, or even La grande bellezza by Paolo Sorrentino. Just as iconic is the TV show Romanzo Criminale by Stefano Sollima, where "Freddo" the character played by Vinicio Marchioni takes his first steps right on the streets of Trastevere. And last but not least, even a master of Italian cinema like Sergio Leone grew up on these very streets.
Trastevere: what to see
The monuments not to be missed when wandering the streets of Trastevere are many and well known, such as Piazza di Santa Maria in Trastevere and its eponymous Basilica and Villa Farnesina. How can one forget the spectacular cloister of Basilica of Santa Cecilia and Basilica of San Crisogono, one of the oldest churches in all of Rome. If, however, you want to breathe in the city feeling that only Trastevere can offer, then walk towards Acqua Paola fountain, better known as il Fontanone and quoted by Antonello Venditti in the anthem Roma Capoccia. A few steps further and you will reach Orto Botanico where you can watch a sunset that embraces the entire city in contact with no fewer than 3,000 plant varieties.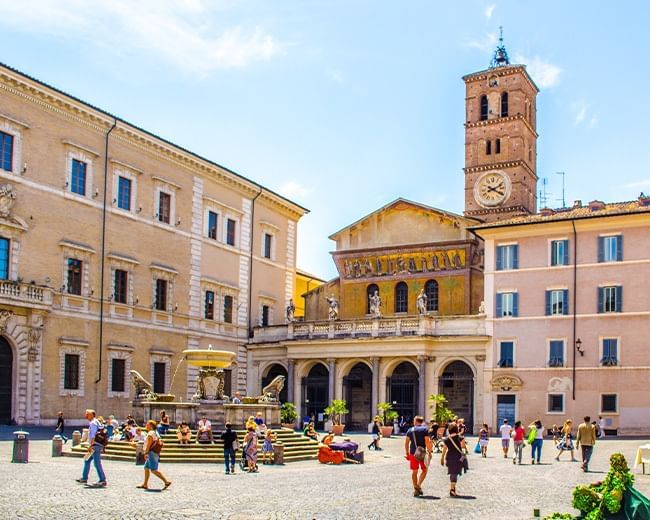 On Sunday mornings then try to get up at a good time to make an obligatory stop at the fantastic flea market of Porta Portese, another historical institution of the area and the city: if you don't find what you are looking for here, it probably doesn't exist. And if you need a place to spend the night, know that soon UNAHOTELS Trastevere Roma will open, a 4-star hotel that will be your home in Rome, strategically located in the centre of Trastevere to allow you to reach the secret corners of the capital's most colourful district at any time.