Special places to spend a few days in the snow
18 Jan 2023
Skiing and winter sports enthusiasts know that Piedmont, full of breath-taking landscapes and dream slopes, is the ideal choice. And you don't necessarily have to go too far from the main city: if you want to ski near Turin, there are many destinations that can be reached in a short time.
Indeed, the capital is effectively connected to some of the most sought-after ski destinations, thanks to the many easily transitable roads that will leave you a stone's throw from the mountain facilities.
Turin is the ideal starting point for your holiday in the snow: in the centre of the city you will find the Principi di Piemonte | UNA Esperienze, a five-star hotel ready to welcome you.
Here you will find an elegant Spa and Wellness centre, ideal for relaxing after a day on the slopes, as well as the renowned restaurant Casa Savoia by "UNA cucina" where you can taste modern and sophisticated dishes.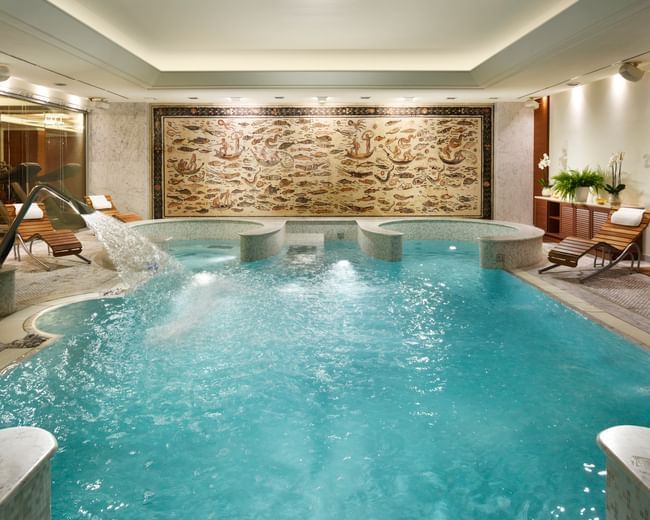 Are you keen to discover the most beautiful ski resorts which are easily reachable from Turin?
Sestriere, the pearl of Piedmont
Among the most popular destinations in Piedmont is Sestriere. Lying at 2035 metres above sea level, this town attracts thousands of tourists and enthusiasts every year, especially thanks to its role as host to many sports competitions.
Indeed, Sestriere often hosts a stage of the Alpine Ski World Cup and was one of the locations for the 2006 edition of the Winter Olympics and Paralympics in Turin.
Skiing in Sestriere is a way to explore the many natural wonders that this area has to offer. The resort also has a wide range of slopes, enabling enthusiasts of all levels to cross these large snowy mantles that extend as far as the eye can see.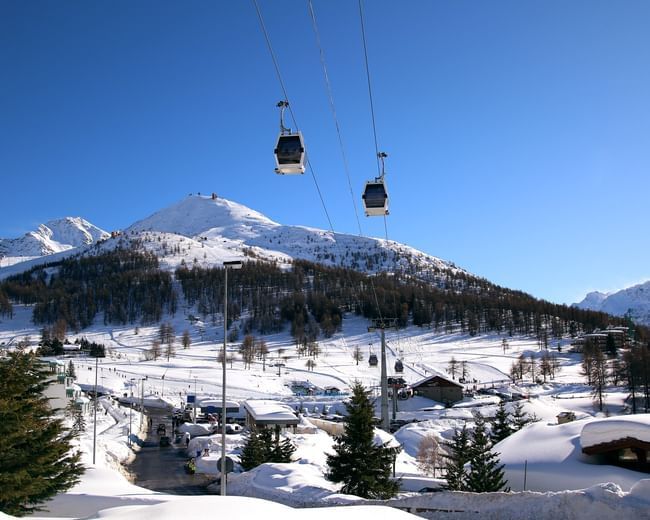 If you are wondering where to ski in Sestriere, know that you are spoiled for choice. The Skiarea has 66 slopes organised by difficulty level.
Sestriere is also famous for the range of activities it offers those who visit, such as downhill skiing, cross-country skiing, alpine skiing or snowshoeing. Among the things to do in Sestriere there are also numerous paths for hiking and snowshoeing.
What could be more atmospheric than night-time skiing? In Sestriere, this dream becomes a reality thanks to the Giovanni Alberto Agnelli piste, which is always illuminated and can be useregularly even for slalom races.
The Vialattea ski area
The Vialattea ski area comprises some of the most beautiful destinations for skiing in Italy: eight mountain resorts, one of which is Sestriere, all connected to each other and reachable from Turin.
Sauze d'Oulx, Oulx, Sansicario, Pragelato, Cesana, Claviere and the French Montgenèvre offer a total of about 250 slopes divided into green, blue, red and black and 70 ski lifts. An extensive territory offering plenty to discover where children are also catered to thanks to the theme parks on offer.
Each resort has unique features and you can make your holiday special by exploring them all: Sansicario, for example, allows you to ascend to 2700 m on Mount Frateive, ideal for the most experienced skiers.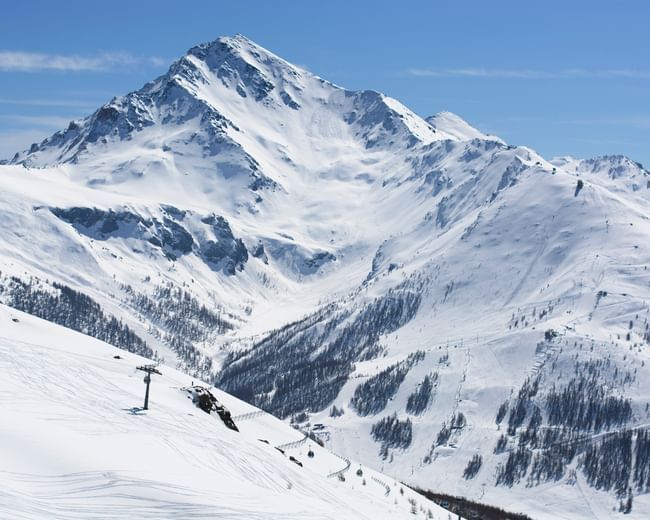 Montgenèvre is the ideal choice for fun on its unspoiled slopes where fresh snow dominates, and enables you to dedicate yourself to cross-country skiing along the 17 km of routes as far as Claviere. Not to mention Pragelato, an hour and twenty-eight minutes from Turin, frequented mainly by freeride lovers.
Born in the 80s, nowadays the Vialattea area has 400 km of skiable area and an altitude of up to 2800 m. A real paradise for snow lovers and for all those who cannot do without the unique atmosphere of a day at high altitude.
Other ski resorts near Turin
There are many possibilities for skiing if you set out from Turin: keen snow fans will know of Bardonecchia for example, home to slopes for young and old, beginners and experts, as well as a snowpark for snowboarders.
Then there is Gressoney-Saint-Jean, where time seems to stand still: enjoy both the local tourist jewels, such as the small churches and the Savoy Castle, and the alpine ski slopes of the Weissmatten.
If you are willing to expand your range of possibilities you could explore the ski slopes in Lombardy, where there are many areas famed for their beautiful landscapes and attractive towns to visit.
You could stop in Milan and leave for the northern side of the region: several hotels are ready and waiting to accommodate you, including the Maison Milano | UNA Esperienze, a few steps from the Duomo, or the UNAHOTELS Malpensa located near the airport.
The Bobbio Plains represent the most famous and well-equipped resort in Valsassina. The area offers a total of 18 stations and 11 ski lifts, as well as ski and snowboard schools to learn everything about this sport.
Then there are the Artavaggio Plains, considered the perfect area for those who want to use a bobsleigh or learn the basics of skiing. And we couldn't fail to mention Madesimo, on the border with Switzerland, with its 50 km of slopes to cover.
Chiesa in Valmalenco offers one of the most spectacular views of the whole of Lombardy: once you have ascended to 1900 m with the cable car, you can admire the Pizzo Scalino and the Bernina. The slopes are suitable for every skill level and there is also the historic Palù Park, a famous seasonal attraction.
The skiing destinations near Turin and Milan are endless. The choice of where to go is yours alone: in any of the highlighted destinations you will endless snow, dream slopes and incredible landscapes to make your winter holiday special.