The ideal location for a holiday in total relaxation
9 Aug 2023
Hotels with an outdoor pool can give their guests a unique experience, that one to enjoy great tranquillity while cooling off during the summer days.
If you prefer to relax in a luxurious setting, there's nothing better than getting out of your room to be by the pool.
Many of these facilities offer special programs or entertainment for children, in order to give their guests an experience for everyone. Discover the hotels with swimming pools, ideal for your next holiday.
Hotels by the sea with outdoor pool
If you love the sea and the beach but don't want to deprive yourself of the possibility of a nice day at the pool, then you will find what is right for you at the major tourist resorts.
1. Versilia
In Versilia beautiful beaches, natural landscapes, historic cities and tourist resorts come together.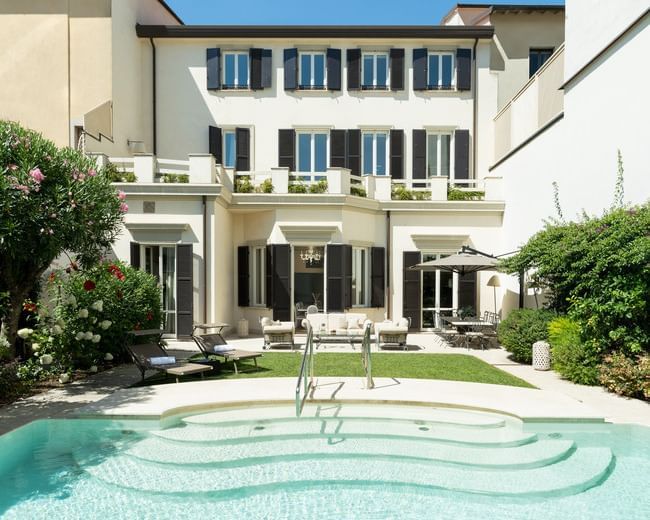 Luxury Villa Manin Viareggio | UNA Esperienze, in the heart of beautiful Viareggio, presents its guests with a real gem: a private garden equipped with a modern swimming pool with the aesthetic characteristics of an ancient pond. You'll find four hydromassage jets, lights, remote water controls, and automated coverage.
2. Sardinia
Stintino is one of Sardinia's pearls, between unspoilt nature and a dream landscape; its crown jewel is the famous Pelosa beach.
The ideal place to stay here is the UNAHOTELS Club Hotel Ancora Stintino, a hotel located in a 20,000 square metre park facing the sea of Sardinia.
For an unforgettable afternoon, there is nothing better than taking a walk through the park and its rich vegetation with bougainvillea and oleander, to reach the private beach with a semi-Olympic pool.

The hotel's outdoor pool is a spot that provides peace and relaxation to guests who can also count on a sea view which enhances their experience.
3. View of the Salento Sea
The Posia Retreat & SPA | UNA Esperienze is located in Melendugno, in the heart of Salento, and is a luxurious 5-star resort with spacious and bright spaces. You will find a beautiful swimming pool where you can relax while enjoying a unique view of the Salento Sea.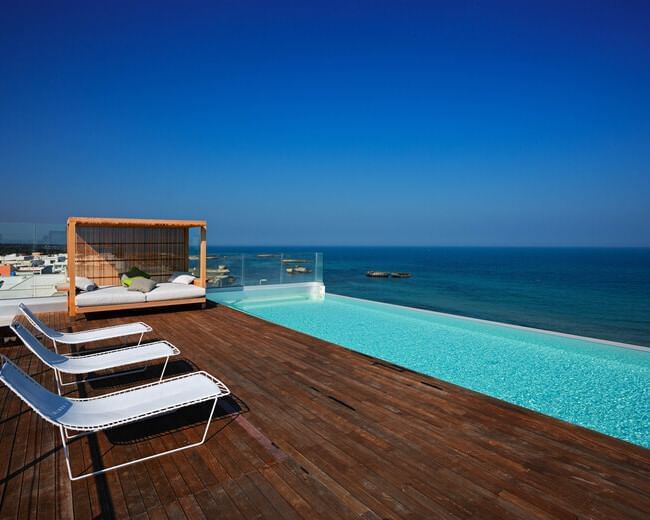 The Posia also offers access to Mora Mora Beach, the beautiful bay with a lido, bistro and cocktail bar: a 150-metre stretch of sand surrounded by picturesque vegetation.
For sports enthusiasts, just a 15-minute drive away is the Acaya Golf Club, the first in all of Southern Italy to receive the 5-star BVGA in the international classification of golf courses.
4. Taormina
UNAHOTELS Capotaormina boasts an inviting location, ideal for exploring a unique city like Taormina and its surroundings. A hotel with a private beach, where you will also find a wellness centre and the restaurant Le Gran Bleu by "UNA cucina". Here you can enjoy the best of Sicilian cuisine overlooking Mount Etna.
Its main attraction is the outdoor pool with purified salt water: it is built into the cliff itself and will allow you to enjoy the view of the sea and the natural spectacle that surrounds the structure.
5. Giardini Naxos
Staying in Sicily and moving a few steps from Taormina, you will arrive at Giardini Naxos. Over time, this resort has become one of the most popular resorts for tourists and a well-known seaside resort on the east coast of the region.
Here there are several beaches which are famous for their beauty, such as the beach of Schisò and that of Porticciolo Saia, and the UNAHOTELS Naxos Beach Sicilia, a hotel with an outdoor pool ideal for combining rest and fun.
The property is in fact surrounded by the scents of a large citrus park and offers its guests a private beach, five different restaurants and 4 outdoor swimming pools.
A dip in the pool surrounded by the Italian hills
Staying in a hotel with an outdoor pool is also ideal for swimming and relaxing surrounded by the evocative landscapes of central Italy, such as the Tuscan hills or the Umbrian countryside.
6. In the Umbrian period residence
Posta Donini 1579 | UNA Esperienze, a 16th-century villa within two hectares of centuries-old parkland, is the ideal hotel in the heart of the Umbrian countryside, at the foot of Perugia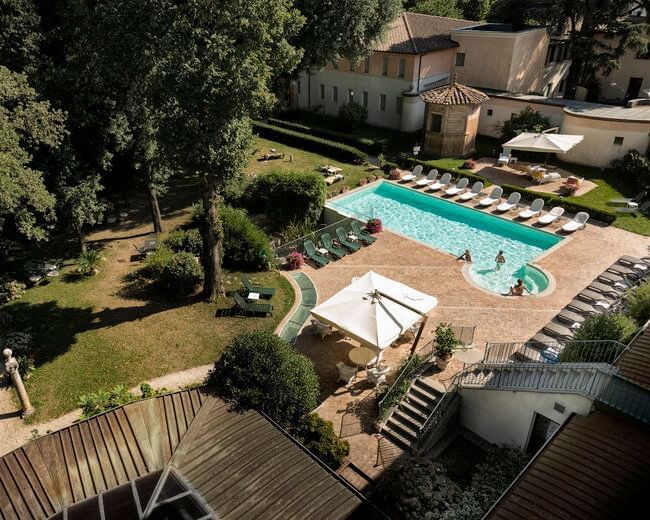 A spectacular setting for a relaxing summer holiday where you can recharge your batteries. At Posta Donini 1579 | UNA Esperienze you will have at your disposal a SPA which is open every day and an outdoor pool to get in touch with the beauty of nature within central Italy.
7. San Gemini
The Grand Hotel San Gemini | UNA Esperienze guarantees maximum elegance and well-being.
Among the various services available we would like to highlight the Canova Private SPA, an intimate and avant-garde environment and the outdoor pool surrounded by a centuries-old park; ideal for a unique day where you can relax enjoying the typical landscape of the Umbrian hills.
8. Among the hills of Montepulciano
In Acquaviva di Montepulciano, in the heart of the Sienese hills, stands the Relais Villa Grazienella | UNA Esperienze.
In this complex, surrounded by greenery and housed in a 1700s villa, you can immerse yourself in the gastronomic tradition of Tuscany thanks to its rich wine cellar and elegant restaurant. Outside, there is a beautiful outdoor pool surrounded by a garden with historic olive trees.
Hotels with an outdoor pool are ideal for enjoying a day of tranquillity, considering the privacy guaranteed by the complex and the services designed to make guests' stay special.