When dream landscapes combine with unique flavours
9 Oct 2022
Autumn is a season that stands out for its unique and magical atmosphere. The temperatures drop, the leaves begin to fall and colours explode. There is no better time to stroll through the Italian vineyards.
How can one resist the fascination of wine, its varied flavours and the places where it comes to life. Vineyards, open vineyards and wine cellars to visit are enchanting places that provide an experience that is hard to forget. Discover with us some of the most famous areas in Italy when it comes to vineyards.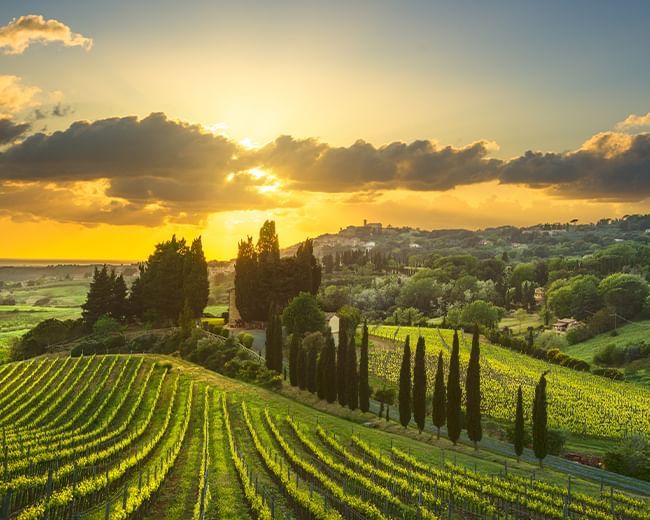 The Vineyards of Monferrato
When talking about wine in Italy, it is hard not to think of Monferrato, listed as a UNESCO World Heritage Site in 2014. The wine tradition can be proudly breathed in every corner of this area between Alessandria and Asti.
The hilly landscape of Monferrato, dotted with vineyards and woods as far as the eye can see, has few equals and in autumn offers some of its best views. Museums, castles and unique examples of Land Art can be found as little treasures hidden among small villages, vineyards and hamlets. Among the most famous names are Barbera, Grignolino, Bonarda, Dolcetto, Malvasia and one could go on for much longer.
And if you want to experience the food and wine of the area over several days, know that less than an hour's drive away is the Principi di Piemonte | UNA Esperienze, a five-star hotel in the heart of Turin. Ideal for relaxing after a day spent exploring the beautiful local vineyards.
The Vineyards of Montepulciano
Tuscany is one of the most famous regions when it comes to grape varieties and DOC wines, and among the many nuances of the region's wine culture, Montepulciano and its Nobile stands out. Prepare to fill your eyes with hectares of vineyards covering the hills: a fascinating landscape that will immediately make you want to try a glass of the most typical product.
In the nearby hamlet of Aquaviva di Montepulciano you can stay at Relais Villa Grazianella | UNA Esperienze, an ideal location to experience the atmosphere of autumn wine and its flavours. The structure is in fact surrounded by the most authentic Tuscan landscapes and has a restaurant where you can enjoy all the traditional dishes and wines.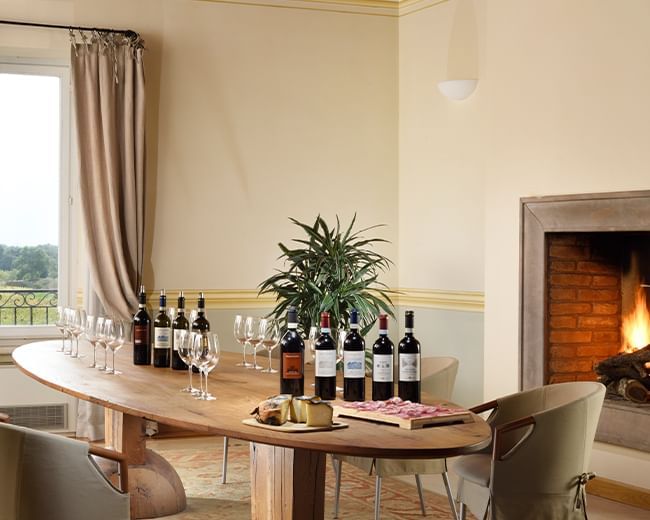 At Relais Villa Grazianella | UNA Esperienze you will also find a room designed for tasting the best red wines and a wine shop filled with local treasures. Get ready for a 360° journey engaging all five senses.
And why not enjoy a tour through the vineyards? Take advantage of the experiences available to enter the heart of the Tuscan world, all to be explored on horseback or by bicycle.
Spectacular landscapes and enchanting places follow one another on this trip that you will look forward to recounting once you return home. Experts will accompany you through village streets and along vineyard paths. And a short distance from the hotel you will find three flats in Fontellera: you will thus be immersed in the vineyards of the Fattorie del Cerro.
Fattorie del Cerro's vineyards
Gruppo UNA boasts among its partners Tenute del Cerro, one of the leading wineries in Italy. Among the company's various estates is Fattoria del Cerro, which boasts 600 hectares, 93 of which are registered in the Vino Nobile register, a guarantee of oenological excellence.
Fattoria del Cerro with its wine tours is located right in Aquaviva di Montepulciano, in an ideal position for exploring both medieval villages such as Montepulciano and Faenza and art cities such as Florence and Siena.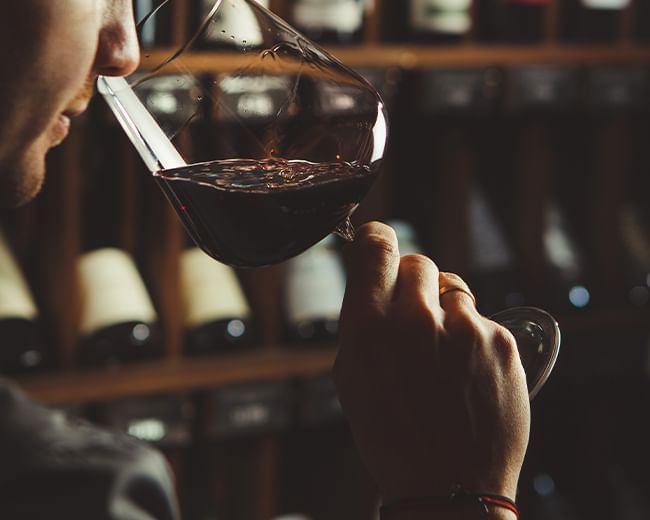 The Siracusan vineyards
Sicily is one of the main places of wine tradition in Italy: historic wines such as Marsala, Grillo or Malvasia delle Lipari are born here.
Vineyards can be found throughout the region, from Agrigento to Trapani and Marsala, not forgetting Etna and its eastern slope.
Among the main areas of production, a leading role is played by Siracusa and its surroundings: the Hyblean plateau that slides down to the sea is home to expanses of vineyards on land that offers flavours unobtainable outside this region.
The Siracusa area, for example, produces Moscato di Siracusa and Albanello, which enhance the typical flavours of the area. And then there is Nero d'Avola, now widespread throughout the region and among the best-known Sicilian red wines but once cultivated mainly in the area of Siracusa.
In Siracusa you will also find the UNAHOTELS One Siracusa, ideal for enjoying the beauty of the city thanks to its strategic location and sky roof where you can enjoy the best local food and wine.
Exploring Italian vineyards means taking a journey through our food and wine in dreamlike settings. And, thanks to the colours and atmosphere, there is no better time than autumn to enjoy these wine tours and beautiful landscapes.