Have fun in the heart of Versilia
1 Jun 2022
The hot summer is fast approaching and our thoughts are turning to the holidays, to be spent with family or friends. If you haven't chosen a destination yet and you're looking for some ideas, among the many timeless destinations which Italy has to offer there's one place which always manages to meet your expectations. It's Versilia, an area popular with tourists from Italy and beyond, located in the north-west of Tuscany. This little corner of paradise has dozens of famous resorts to visit and one of the best known is Forte dei Marmi, a famous town a stone's throw from the sea where UNAWAY Hotel Forte dei Marmi has recently reopened its doors, ready to welcome you between a swim in the sea and a stroll through the town centre. Are you curious to find out more?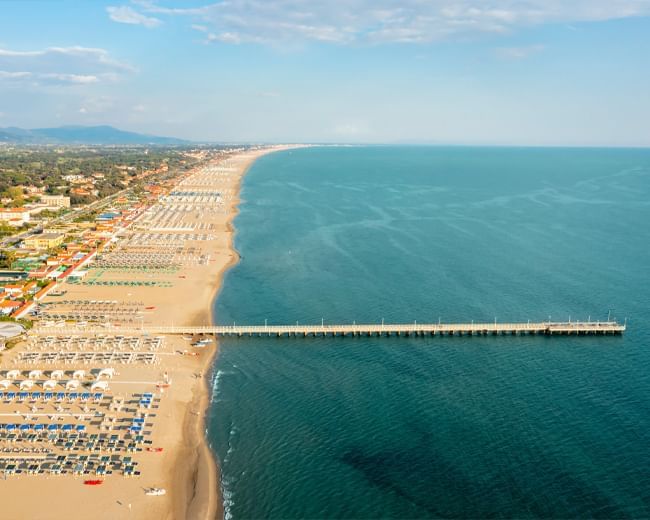 What to do on holiday in Versilia?
If you've never been to Versilia and you're wondering what to visit in this region, you should know that the answer includes a range of options to please everyone: historic centres alternate with unmissable green scenery and unique locations for lovers of nightlife and relaxation. Beach tourism is the area's strong point, and names like Lido di Camaiore, the free beach of Lecciona and Marina di Pietrasanta bear witness to this, bringing to mind images of long stretches of sand and an azure sea to bathe in. But even people who love excursions won't be disappointed as nature is the protagonist in Versilia: it's impossible not to be fascinated by the Candalla waterfalls (a short distance from Camaiore), Lake Massaciuccoli, the silver mines near Levigliani and the famous quarries from which Carrara marble is extracted. Finally, the Versiliana Park offers long, beautiful walks in the most authentic greenery on a route which culminates at Villa Versiliana, where Gabriele D'Annunzio is said to have composed La pioggia nel Pineto during one of his stays.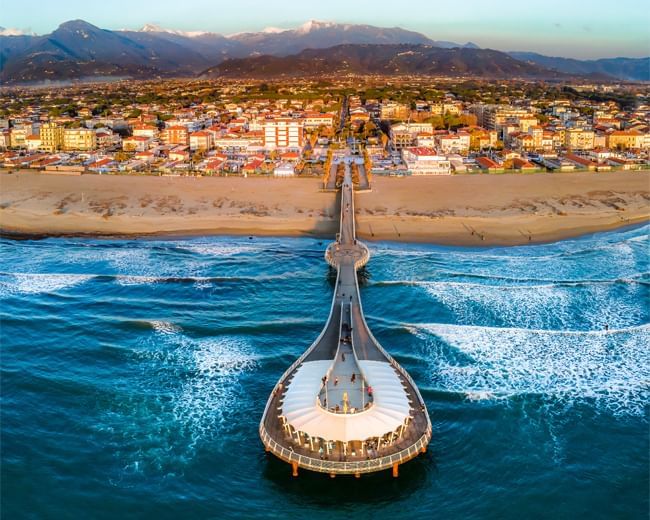 The Attractions of Forte dei Marmi
In the varied scenery of Versilia, Forte dei Marmi plays a central and exclusive role, a popular destination thanks to its elegance and its innate ability to combine refined shopping boutiques with breath-taking beaches. If you visit this locality, you can count on a wide range of unmissable attractions, like the sandy shoreline, to be experienced both in the bathing establishments and on the free beaches, the high-profile shops, and also places with a heavy cultural influence like Villa Bertelli. Then you're bound to be bewitched by the Forte dei Marmi Pier, one of the symbols of the entire region which continues to fascinate tourists from all over the world more than 150 years after its birth.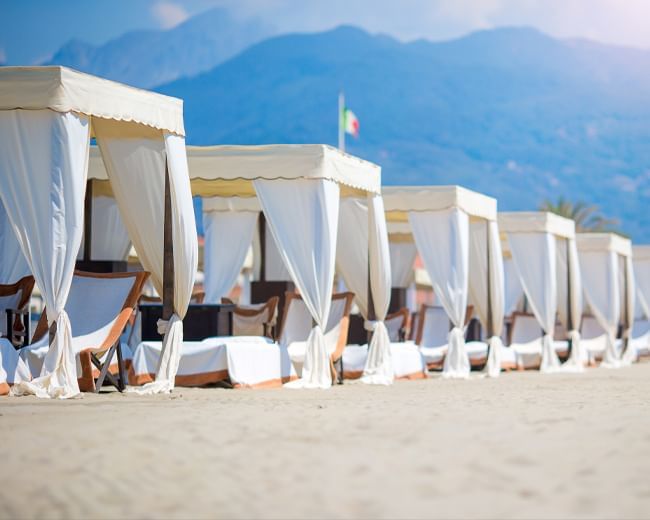 UNAWAY Forte dei Marmi: the ideal stay in Versilia
You'll be able to enjoy all that Forte dei Marmi has to offer, staying in a hotel which is designed to meet a variety of needs with an emphasis on comfort. This is Hotel Forte dei Marmi by UNAWAY, which works to provide smart and inspiring stays for its guests: this hotel, which reopens its doors on 1st June, is no exception. UNAWAY Forte dei Marmi is an ideal solution both for people looking for high-quality accommodation during business trips and for people who simply want to spend their holidays in Versilia alone or with their family. The facility consists of several services, including:
The free parking where you can conveniently leave your car.
Free Wi-Fi in all the rooms and common areas.
Attractions for sports enthusiasts: tennis courts and a semi-Olympic swimming pool with a bar.
Rooms designed to accommodate guests with limited mobility and facilitate their stay.
These are just some of the most inviting aspects which will allow you to relax and have fun during your trip to Versilia and the surrounding area: and people who love seaside holidays couldn't ask for better as the hotel is located just 2 km from the renowned beach of Forte dei Marmi, the ideal place to spend a few hours relaxing and enjoying the maritime atmosphere. Everything else you'll discover by letting yourself be captivated by this place.