The ideal frames for congresses, meetings and conferences
6 Sep 2022
Among the most important moments of any business (and in particular of the business world) are meetings and conferences, important moments of corporate activities. The success of an event is also determined by the setting in which it is organised, which must be convenient to reach even for those arriving from afar and equipped with the comforts to combine work with moments of relaxation to accompany these occasions.
Based on this idea, the UNA Esperienze, UNAHOTELS and UNAWAY collections offer facilities that are careful to offer not only very spacious rooms to accommodate numerous teams of businessmen (we are talking about a total of 23,400 square metres of meeting and conference rooms in 17 different destinations) but also facilities that can make a business trip a pleasant moment.
Hotels for events in Versilia
In the splendid setting of Versilia and its natural beauties lies the Versilia Lido | UNA Esperienze, strategically located on the Camaiore seafront and easily reachable from nearby places such as Forte dei Marmi, Viareggio, Lucca, Massa Carrara and from the airports of Florence and Pisa. The flagship in the meeting sphere of this structure is the Orchidea Room, a modular space (from which as many as 4 equipped rooms are created) that stands out for its natural lighting and for its capacity of 660 persons with theatre set-up that can be reduced to 400 with banquet set-up and 500 in cocktail style if necessary. The 630 square metre floor plan makes the Orchidea Room the largest in the entire Versilia area. And should the event last several days, you have nothing to worry about: no less than 99 rooms are available for you and your colleagues to stay in during the meeting; furthermore, Versilia Lido | UNA Esperienze also offers an evocative roof garden where you can enjoy the panorama of the Versilia seafront between meetings.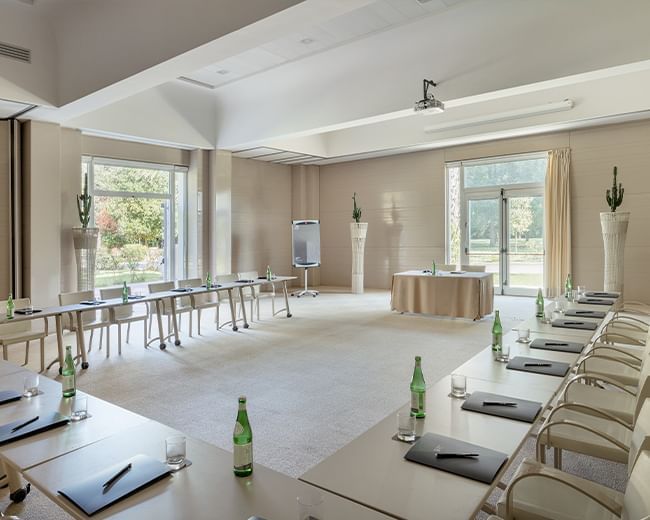 Leisure time in Versilia
If you have some time left over to devote to extra activities, outside of work, you could take advantage of it to enjoy Versilia, with its natural beauty, historic villages to visit and unspoilt beaches. So lose yourself in the lifestyle of Forte dei Marmi, relax on the Versilia seafront or enjoy the most peculiar views of this area such as the small villages of Pruno and Massarosa. And how can we not mention Viareggio, the pearl of the Tyrrhenian Sea famous everywhere for its Passeggiata and Art Nouveau architecture.
Hotels for events in Lombardy
In Milan, meetings and events of all kinds in the business world are the order of the day. In this energetic and stimulating context is the UNAHOTELS Expo Fiera Milano, a real Congress Centre where all kinds of initiatives can be held thanks to its capacity: just think that the main hall can hold up to 1,200 people, which can reach 2,900 counting all the 9 exhibition spaces available in the structure. In addition, the hotel has more than 500 rooms available to accommodate participants and like-minded people. The hotel also boasts a strategic location that makes it reachable by any means of transport, as it is 10 km from the airport, 100 metres from the Molino Dorino station and just over 4 km from the Milan Trade Fair: free shuttles provided by the hotel depart from the latter two to allow you to reach your meeting conveniently and intuitively.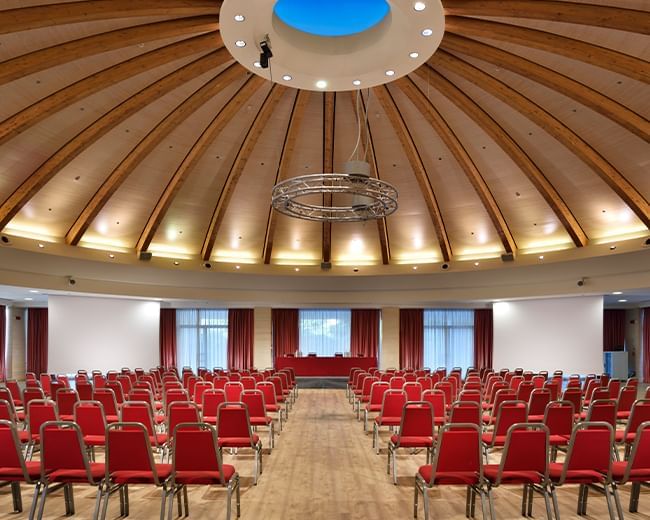 Remaining in Lombardy, in the province of Varese there is another structure that boasts large business areas and that is the UNAHOTELS Varese, which offers two main spaces for meetings and events: the modular Arc De Triomphe room with its capacity of 800 people and the Royal Ascot, designed for 180 guests. Everyone will have free parking and a series of luxuries that will make your business conference a unique experience.