A renewed look for interiors and common areas
15 Sep 2022
Those who like to travel by air will in all likelihood be familiar with Malpensa, one of Italy's main airports - it is the second largest in Italy - located between the towns of Somma Lombardo and Ferno, in the province of Varese.
Taking a flight can be long and tiring. You have to get up early, arrive at the airport perhaps after a long journey and go through the check in process, not to mention the journey itself.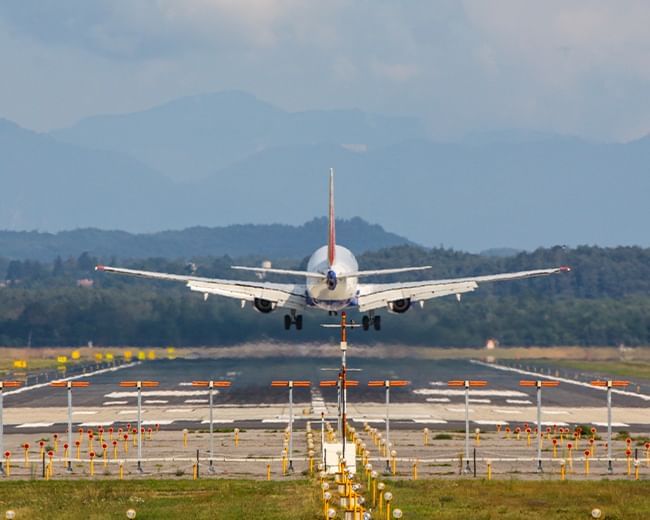 So why deprive yourself of the comfort of spending a night in a nearby, cosy and well-connected hotel?
UNAHOTELS Malpensa is the ideal solution for those looking for a well-equipped facility near the airport and the Milan exhibition centre, as well as having ample free parking available for its guests.
The strategically located four-star hotel reopens its doors this September with a number of great new features and is ready to welcome all travellers arriving or departing on their stopover in and around Milan.
New look for UNAHOTELS Malpensa
UNAHOTELS Malpensa has undergone a series of restyling works that have enriched its already extensive offer and services dedicated to business and leisure travellers looking for a convenient solution close to Milan Malpensa airport.
What has changed at UNAHOTELS Malpensa? The changes involved all 157 rooms in the hotel. Thanks also to the new "Made for UNA" project involving the participation of Dorelan for the creation of new topper and mattress combinations and the renovation of the bedrooms also involving pillows, duvets and beds. In addition, all rooms have been equipped with a 55-inch Samsung SMART TV and the bathrooms modernised with additional facilities.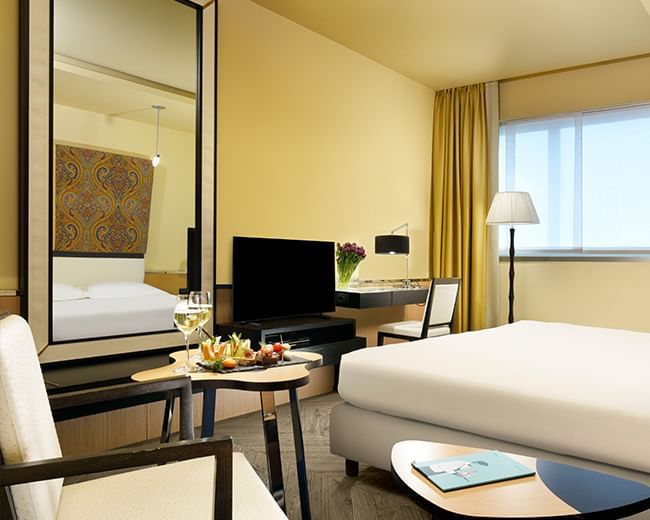 The renovation particularly involved the rooms on the ninth and tenth floors, all of which were converted into executive rooms equipped with coffee makers and kettles.
The restyling has also increased the accommodation solutions available to UNAHOTELS Malpensa guests because in addition to the rooms, two further two-room apartments with induction cookers will be available. And the residence offer is also being expanded with the possibility of transforming one's own flat into a three-room flat by connecting it to an adjoining room.
The desire for renovation, however, has not only targeted the rooms and flats but also the common areas, among which the lobby and the Volare Bar & Restaurant by 'UNA cucina' stand out. All these areas have a renewed look in terms of furnishings and colours. We cannot fail to mention the conference centre. The hotel's four meeting rooms have been placed in a new, functional environment with modern, technological equipment, new video projectors and 65-inch TVs even in the smaller rooms.
The real novelty, however, is the creation of the fitness area, which further complements the services for business and leisure travellers.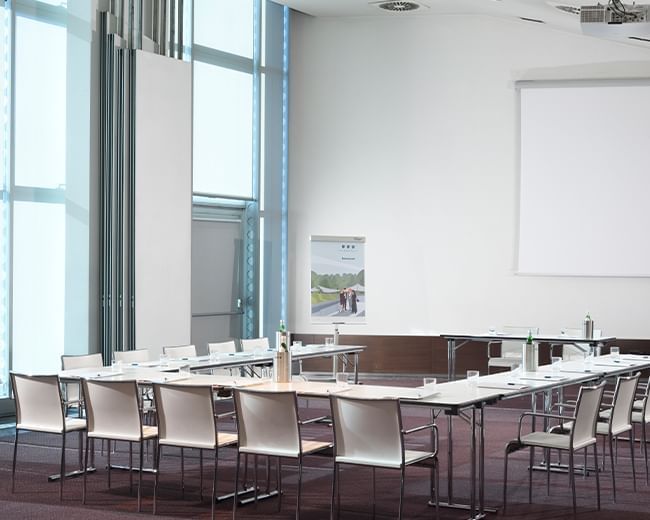 How to get to Malpensa airport: timetables, parking and means of transport
In addition to its state-of-the-art restyling, UNAHOTELS Malpensa also has an ideal location for convenient access to the airport. In fact, the hotel is located in Cerro Maggiore and can be reached in just 17 minutes by car from Terminal 2 in Somma Lombardo and 20 minutes from Terminal 1 in Ferno. This distance also makes it suitable for those who have to leave very early but do not want to embark on a long journey at night to reach the airport, and above all to be able to use their own car comfortably.
There are in fact six main parking areas at Malpensa divided according to parking requirements and price ranges. All are efficiently connected to the terminals, which can be reached on foot with a direct check in or with the free shuttle service operating from 4 a.m. to 1.10 a.m. the following day.
If, on the other hand, you have to pass through Milan's central station, know that UNAHOTELS Malpensa is only half an hour's drive from Piazza Duca d'Aosta. From here you can then take the Malpensa Express to the airport at a cost of €13.
And still on the subject of areas connected to UNAHOTELS Malpensa, mention must be made of the Milan exhibition centre, which is just over 15 km away and hosts various events related to the business world and beyond. And you won't have to worry about how to reach it because a convenient shuttle service on reservation to and from the Fair will be at your disposal.
The ideal location close to the highway entrance and the total redesign of the interior make this hotel the ideal location for a strategic stopover in Milan to enrich your travel experience.